Nicole Coste, the mother of the eldest son of Prince Albert confided about some actions of Charlene of Monaco. Her words are virulent.
It's been sixteen years since she expressed herself in the press. It's done: Nicole Coste, mother of the eldest son of Albert of Monaco gave a long interview to Paris Match. And the least we can say is that she is not tender with the wife of the prince, Charlene of Monaco. Indeed, Alexandre's mother did not mince her words when she talked about the princess: "As for Charlene, it's a subject I can't avoid, because we are often put in parallel. I don't like to be compared. I have never shown myself as an enemy. I am a gentle woman," she explains.
But Nicole Coste does not forget certain actions of Charlene of Monaco that have strongly displeased her: "In our situation, diplomacy had to impose itself. But during the engagement period, I experienced things that alerted and shocked me. For example, she changed my son's room, taking advantage of his father's absence to put him in the staff wing. As a mother, I can't find words to describe these actions". A sharp statement for the one who gave a son to Prince Albert.
This is none of my business. It's her private life
Now settled in London, Nicole Coste has also passed through Switzerland. Did the mother want to flee from Charlene of Monaco's actions? "They said I fled, it's not true. I went to New York, Geneva and then London to complete the education of my children in a big city. I had the opportunity to do that. And it was also easier on my side to work. Nothing more" she admits. Alexandre's mother prefers to remain vague on certain subjects concerning Charlene of Monaco, especially concerning her absence from the Rock: "It's none of my business. It's her private life". That's it.
Nicole Coste: Why the mother of Prince Albert's eldest son is coming out of silence
Mother of Alexandre, born from her love affair with Albert of Monaco, Nicole Coste confides as never in the columns of Paris Match, to restore some truths, but also, to give more space in the light to her beloved son.
He is probably the most discreet child of Albert of Monaco. Before the birth of his twins Jacques and Gabriella, born of his marriage to Princess Charlene, the Monegasque sovereign was twice dad, in 1992 of a daughter, Jazmin Grace, and in 2003 of a son, Alexandre. If the two youngest are regularly exposed officially as children of prince, the other two are less present on the princely scene, while Jazmin Grace is very active on her side on social networks. Alexandre Coste prefers the shadow, in which he grew up, and this in accordance with the wishes of his parents.
"For 18 years, his father and I have made sure not to expose him officially. It was a common decision to preserve him", admits Nicole Coste in the columns of Paris Match, in kiosk Thursday, September 2, who decided to leave the silence about her son to "give a little news", and also show how much he is "happy, surrounded". The opportunity also for her to "deny all the vileness said about [her]" and to "restore truths on things already written". "I have been the object of indecent and barbaric methods", says Nicole Coste, who remembers in particular having been "accused of having made a scene at the Palace, accompanied by Alexandre". "In reality, I had gone there to denounce a man who had been chasing me for three days in a car and had told me that he was in the service of the prince", she explains.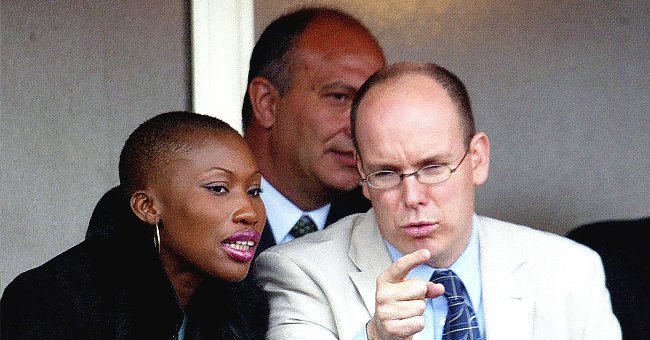 Is Alexander really an illegitimate child?
If this story is then returned to order, the man in question having lied about his identity, Nicole Coste has also been the victim of false rumors about her, as when she was accused of having wanted to disrupt the wedding of Prince Albert and Charlene of Monaco, or, to have wanted, during a photo shoot as part of her career as a model, to imitate Princess Grace of Monaco. "I have immense respect for her, the grandmother of my son, and never the idea to compare me to her would touch my mind," she said. The hardest thing for Nicole Coste, remains above all the time when, in the foreign press, she was accused of having "betrayed Prince Albert", made up of all pieces by "misinterpreted words". "He did not mean that I had made a child behind his back, but that I had betrayed his trust by revealing the existence of Alexander to the press in 2005," she said, restoring the truth about the legitimacy of her son, she who describes herself today as "a fulfilled and fulfilled woman.
Why Alexander is not really her "illegitimate" son?
In the columns of Paris Match, Nicole Coste confides as rarely about her son Alexandre, born from her relationship with Albert II of Monaco several years ago. The opportunity for her to set the record straight about this child often considered as "illegitimate".
Nicole Coste makes a small clarification. Married for ten years to Charlene of Monaco, Prince Albert II has not always had the ordered life of sovereign that we know today. Long known for his intimate relationships, especially with models, he is the father of two children born out of wedlock, who are not in the order of succession to the throne of Monaco, like the twins Jacques and Gabriella: Jazmin Grace and Alexander. Thus, it is as "illegitimate" children that are portrayed the first two children of Albert of Monaco, born respectively in 1992 and 2003. However, it is not so, especially in the case of Alexandre Coste-Grimaldi, as his mother Nicole insisted on specifying it.
"He was born of a love and recognized, therefore wanted by God," says the flight attendant of Togolese origin, who explains that before becoming pregnant, she had experienced "a five-year relationship" with Prince Albert, "enough time for [they have] mutual trust. "To continue to say or write that our son is an illegitimate child is incorrect and insulting," Nicole Coste firmly states in the columns of Paris Match, on sale Thursday, September 2, which asserts that when Alexander was born, neither she nor Albert II were married to another person. "Alexander was born two years before the romance between his father and Charlene began in December 2005," she said, adding that she wanted "to emphasize this, because this doubt has allowed the press to continue to make people believe that [her] son was illegitimate.
Is Alexandre Coste close to his sisters and brother?
Raised in the shadows, Alexandre Coste-Grimaldi is no less close to his father, whom he meets regularly in Monaco, but also to his sister Jazmin. The latter had reserved a nice surprise for his birthday last August, when he celebrated his 18th birthday, by taking him to see a movie in an open-air cinema. And if he has a big difference of age with Jacques and Gabriella, it happens that the young man never misses "to play happily with them when he sees them" assures his mother.