This Tuesday, September 13, Kate Middleton paid a very subtle tribute to her late Majesty Elizabeth II. When she arrived at Buckingham Palace to welcome the coffin of the Queen, she wore a very symbolic jewel set … and it was not a brooch, as highlighted by The Daily Mail.
A triple row of pearls and a tribute all in delicacy. This Tuesday, September 13, Kate Middleton has moved the subjects of Elizabeth with a simple and discreet gesture, says The Daily Mail. To welcome the coffin of Elizabeth II arrived last night at Buckingham Palace, the Princess of Wales wore extremely symbolic jewelry. Elizabeth II, who died on Thursday, September 8, was fond of hats, brooches and especially these pearls that she wore very regularly. If it is impossible to say if Prince William's wife had put on the famous Queen's necklace or a similar piece of jewellery belonging to her, her delicate attention is all the more appreciable as it corresponds to the etiquette.
Her Majesty Victoria, who ruled the United Kingdom for sixty-three years from 1837 to 1901, established a tradition of wearing pearls in times of mourning for members of the royal family. The sovereign, who never recovered from the loss of her husband, Prince Albert, wore them for the rest of her life. Kate Middleton, respecting this tradition had already worn pearls at the funeral of Prince Philip in April 2021. At that time, she wore a four-strand necklace belonging to the royal cassette. According to Femina, pearls represent "the tears of sorrow" in the United Kingdom.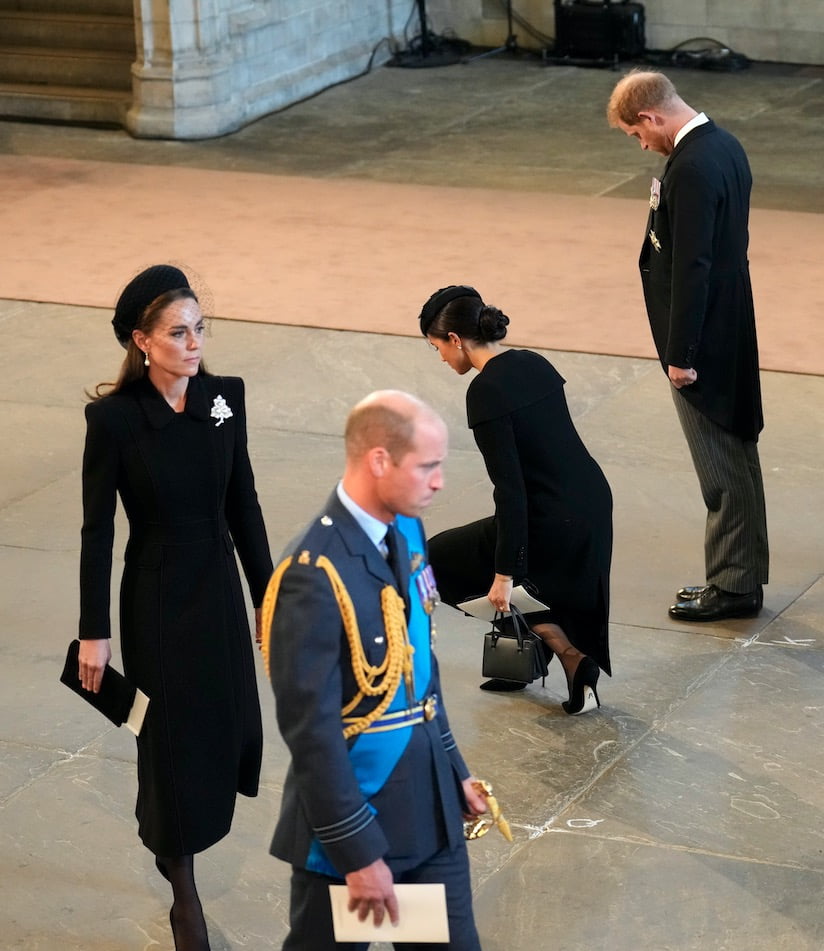 Kate Middleton puts on the Queen's earrings
Another detail of Kate Middleton's ensemble also paid tribute to the Queen. The Duchess of Cambridge had adorned her ears with small pearls, which were lent to her by Elizabeth II for a long time. A choice all the more symbolic, as it is a gift that Prince Philip had made to her Majesty. It illustrates the complicity and intimacy that had been established between the two women over the past two decades. It also says all the love and admiration that the Princess of Wales has for "Granny". These jewels, probably very carefully selected by the mother of the heirs to the crown, are all the more symbolic as they coincide with the last wishes of the deceased. Elizabeth II decided to be buried with very little jewelry. Her remains would thus wear only her Welsh gold wedding ring, and, precisely, a pair of pearl earrings.
Photo credits: AGENCY / BESTIMAGE