While Wimbledon is in full swing in London, Zara and Mike Tindall were spotted closer than ever in the stands of the tennis tournament. Lena's parents, Mia Grace and Lucas shared a complicit moment and even exchanged a tender kiss.
If Princess Catherine is a regular at Wimbledon, she is not the only member of the royal family to go there! This Thursday, July 13, Zara Tindall went to the tennis courts in south-west London with her husband, Mike Tindall. Princess Anne's daughter looked particularly stylish, dressed in a vertical striped ME+EM label shirt dress that she paired with a white blazer. For accessories, the riding champion had bet on a pair of wedge sandals and a panama hat, also white.
In the stands of Wimbledon, Zara Tindall was close to her husband. The lovers did not hesitate to curl up against each other and even indulged in a tender kiss, reports the Daily Mail. A tradition for celebrities attending the tennis tournament. This year, Orlando Bloom and Katy Perry, but also Romeo Beckham – the son of the famous footballer David Beckham – and his girlfriend Mia Reagan were also spotted lip to lip on the sidelines of sporting events at Wimbledon.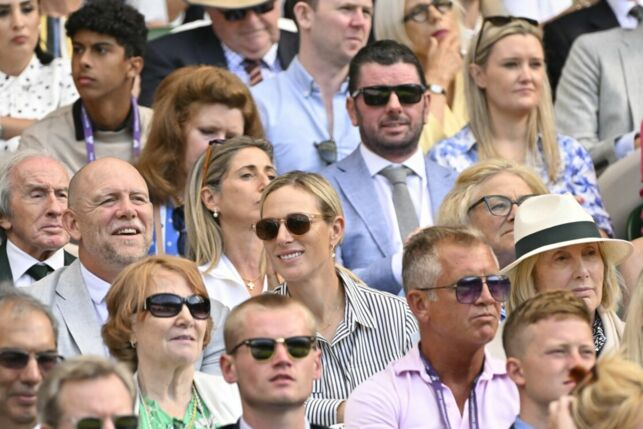 Are the Windsors done with the label?
While Zara Tindall was seen, this Thursday, July 13, kissing her husband in front of the whole Wimbledon, the question of etiquette and Windsor comes to arise. Recently, Queen Camilla had also caused ink to flow after breaking royal protocol. During a trip to a literary festival, the wife of Charles III had welcomed some of his friends by rewarding them with a kiss on the cheek.
A behavior however inappropriate for a sovereign. Prince William's mother-in-law then justified herself and explained that she did not want her new title to change the way her loved ones behaved with her. And since Charles III is advocating for a more modern monarchy, would it be time for the Windsors to abolish the protocol?
Photos credits: Bestimage