The expulsion of Meghan Markle and Prince Harry from the United Kingdom revealed by the Sun this Tuesday, February 28 does not prevent Kate Middleton from smiling, quite the contrary. The wife of Prince William appeared hilarious the day after this revelation on the occasion of St. David's Day.
It's been three years since the Sussexes have lived on British soil, but according to revelations in The Sun published this Tuesday, February 28, after the release of Prince Harry's book The Spare, the couple would have received an eviction notice from Buckingham Palace. Worse, King Charles III would have decided to entrust their former home, Frogmore Cottage, to his brother, the controversial Prince Andrew. A real slap in the face for the parents of Archie and Lilibet, a decision that seems to make the break between Prince Harry and the United Kingdom truly permanent. These events do not prevent the future queen, Kate Middleton, to keep smiling. In the aftermath of these revelations, the wife of Prince William was, indeed, radiant and very smiling this Wednesday, March 1.
To celebrate St. David's Day,
went, with her husband, to the 1st Battalion Welsh Guards at Combermere Barracks, in Windsor. She burst out laughing when a guard handed her a leek corsage. Such hilarity would almost make you forget the decision about Prince Harry. If Kate Middleton is feeling so good, it's because this place is a "happy" place for her and her husband. It is indeed in Anglesey that they lived just after their marriage. It is therefore, according to the specialist Jennie Bond quoted by OK! a "very important" place. "Their stay in Anglesey was very very happy (…). Kate could make a jump to the supermarket. (…) It was a happy beginning in married life for them. It was the last time they could lead a 'normal' life," she explained.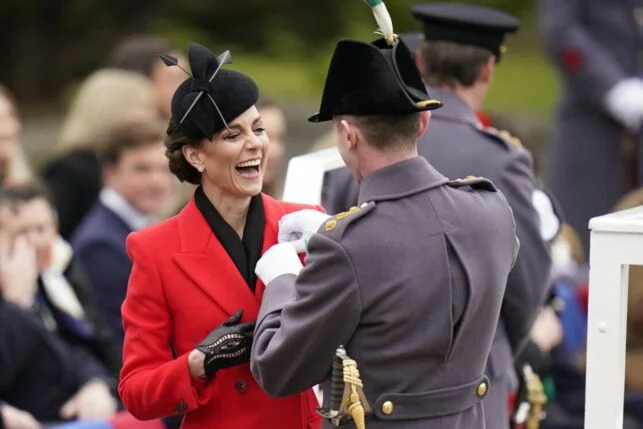 The day before, the laughter was already of the part
This Tuesday, February 28, the day of the revelations about the expulsion of Prince Harry and Meghan Markle, Kate Middleton and Prince William had already made an appearance in Wales placed under the sign of good humor. They had engaged in a cycling competition. What to make also strongly work the zygomatic. And to make a little more forget Meghan and Harry, far from here in the United States?
Photo credits: AGENCY / BESTIMAGE