In about 50 days, the Coronation ceremony of King Charles III will take place. An event that will take place largely in Westminster Abbey, one of the most symbolic churches in London. But why this particular church? We explain.
Less than two months now separate us from the Coronation of Charles III. The planetary event, expected for May 6, is still being fine-tuned, but the main lines of the event are already known and ready for the big day. The coronation should take place in Westminster Abbey, as tradition dictates.
This building, several hundred years old, has hosted throughout history the coronations of all kings and queens of England, except for two of them, kings Edward V and Edward VIII. The first, aged thirteen, reigned only from April to June 1483 and therefore did not have time to be crowned, while the second preferred to abdicate the throne less than a year after his appointment as king so that he could marry his American companion, Wallis Simpson.
In addition to hosting coronations, the abbey, whose construction ended in 1245, has also hosted many weddings, including that of Queen Elizabeth II and her husband Prince Philip in 1947, or that of Prince William with Kate Middleton in 2011. The place has also been used for funeral ceremonies, such as those of Queen Elizabeth II last September or Lady Diana in 1997. A place of extreme importance, therefore, within the British royal family and that seemed obvious for the Coronation of Charles III.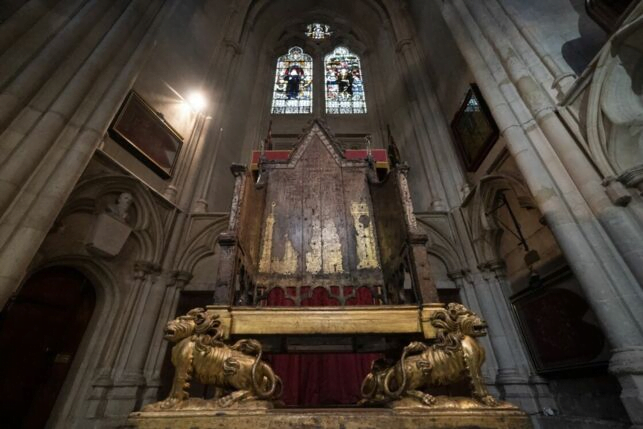 Charles III: the problem he might encounter at his Coronation
During his Coronation, Charles III will surely have the immense privilege of being able to sit on one of the treasures of the abbey, namely the coronation chair of the building, one of the most famous pieces of furniture in the world. Although the chair is over 700 years old, it is likely to pose a problem during the ceremony. Its comfort being sketchy and the new King of England suffering from back pain, all the teams in charge will have to redouble their efforts to make the king's position on this seat as comfortable as possible.
A problem that was also found with the Gold State Coach, a beautiful and sparkling coach that the United Kingdom only takes out for coronations and jubilees but with a deplorable comfort. The King has apparently decided to break with tradition in this regard and will not be using this vehicle at his Coronation.
Photo credits: AGENCY / BESTIMAGE