Queen Consort Camilla paid a visit to the Elmhurst Ballet School in Birmingham. This prestigious ballet school is celebrating its centenary this year. In addition to attending a special performance for the occasion and talking with the faculty, the Queen Consort also met Anthony Madu, a young Nigerian who will soon be the subject of a documentary produced by Disney, telling his incredible journey from Lagos through a viral video posted on social networks in 2020.
Queen Consort Camilla celebrates the centenary of the Elmhurst Ballet School in Birmingham
Queen Consort Camilla has been patron of the Elmhurst Ballet School in Birmingham since 2006, when she was still Duchess of Cornwall. Passionate about art and dance, the wife of King Charles III also started dancing late in life. She is one of those senior citizens who have taken up ballet after retirement.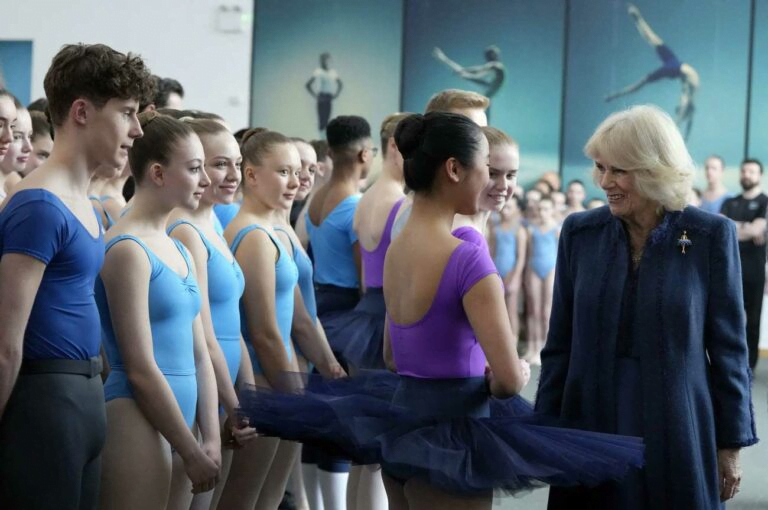 Camilla went to the Birmingham School of Dance on March 14, 2023 to attend a performance to mark the 100th anniversary of the school. The Queen unveiled a plaque commemorating her visit to the school on the occasion of its centenary and had the opportunity to talk with teachers and students. For the visit, Queen Consort Camilla wore a Van Cleef & Arpels brooch depicting a dancer. The gold brooch, pinned to her chest, is set with small diamonds, Lapis-Lazuli and turquoise.
Anthony Mmesoma Madu meets the Queen Consort
Among the students, she met Anthony Mmesoma Madu, a 13-year-old dance prodigy. The teenager is in his second year of dance at the school thanks to a scholarship that allowed him to leave Nigeria. Anthony Madu had made the buzz in 2020 when a video appeared on social networks. We saw him dancing and doing pirouettes barefoot in the streets of Lagos in the rain. The video in which he was nicknamed "the Nigerian Billy Eliot" had been viewed more than 16 million times.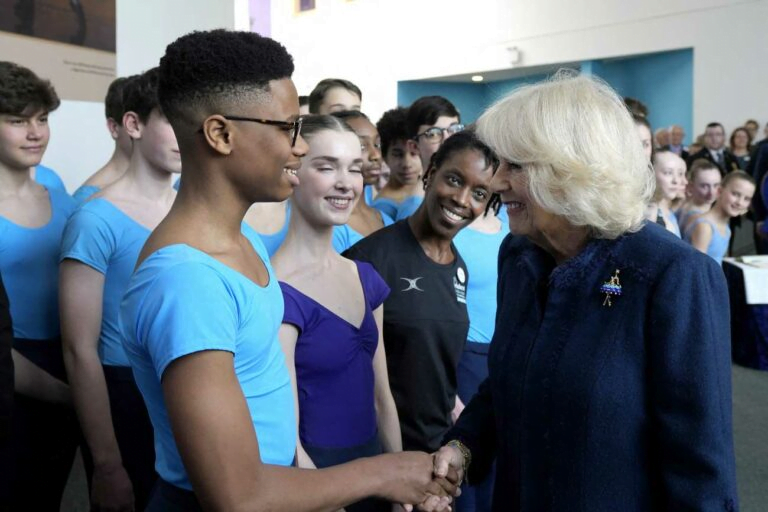 After this incredible buzz, he was offered a scholarship to join this school located in central England. According to the BBC, he actually received donations and scholarships from several organizations around the world, including one from the Jacqueline Kennedy Onassis School. Since then, he has been followed by a Disney team that is preparing a documentary on his rise and adventure.
Photos credits: Bestimage