This Wednesday, March 29, King Charles III made his first state visit as the new king of England, in Germany. A visit where everything was planned … to the smallest detail, to avoid an incident, as revealed by the English tabloid The Mirror.
For the arrival of the king of England, Germany was anxious to leave no detail out. While Charles III was to grant his first state visit to France from Sunday, March 26, finally postponed following the social protests present throughout the country because of the pension reform, it is finally in Germany that the monarch went this Wednesday, March 29 for his first stay abroad as king. A trip during which the king received a very good reception, from the population as well as from his hosts.
And for good reason, everything was done to make the king feel comfortable. In an article in the Mirror dated Wednesday, March 29, English journalists revealed that, according to an official in the German presidential office, the organizers went so far as to "repeatedly check" the pens that the king would use during his visits, in order to avoid an incident similar to the one the king experienced at the very beginning of his reign. A moment of anger on which the king was quickly returned with humor afterwards.
Thus, during his visit to the presidential palace of Bellevue in Berlin, King Charles and his wife Queen Consort Camilla were able to sign the Golden Book of the place, without experiencing any ink problems. No doubt, German quality was present during this visit!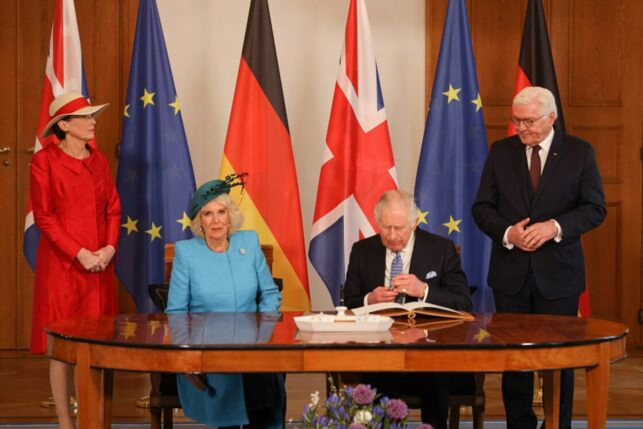 Charles III: what he thinks of the postponement of his visit to France
If the father of Princes Harry and William said he was very happy and eager for this visit to Germany, he also had a word with French journalists about his aborted visit to our country. While he was taking a bath near the Brandenburg Gate in Berlin and shook hands with the inhabitants, a journalist from BFMTV was able to ask the monarch what he would like to say to the French, to which the king replied "It is very sad" to have missed his stay as planned in Paris and Bordeaux.
While waiting for his arrival, the King of England has been honored in our country in recent days, after his wax statue was revealed at the Musée Grévin. A wax statue that has clearly not been unanimous, including across the Channel where the critics against him have been murderous, pointing to the lack of resemblance. By the time of the future visit of the king, his wax counterpart will perhaps be reworked.
Photo credits: AGENCY / BESTIMAGE