It is in family, with her daughters Charlotte Casiraghi and Alexandra of Hanover, that Caroline of Monaco went, Thursday, March 30, to the opening of the exhibition "Humanoids" of the artist George Condo which was held on the Rock.
A nice family portrait. If Charlotte Casiraghi and Caroline of Monaco have displayed the same hairstyle during the 67th edition of the Rose Ball held at the Sporting Monte-Carlo on Saturday, March 25, the mother-daughter tandem has illustrated itself during a new event. Indeed, the daughter of Rainier III and Grace Kelly went, on Thursday March 30, with the wife of Dimitri Rassam to the new National Museum of Monaco for a cultural escapade. She was also accompanied by her youngest daughter, Alexandra of Hanover, as well as her brother, Prince Albert II, and they paraded in front of the shimmering works of the American painter George Condo, who came to give the start of his exhibition Humanoids.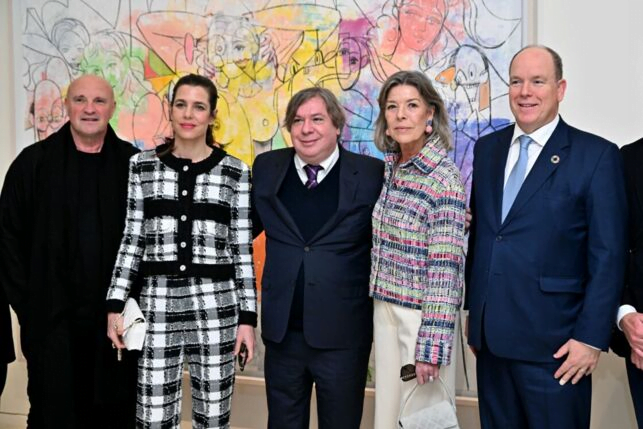 Echoing the artist's colorful paintings mixing cubism and classicism, Caroline of Monaco and Charlotte Casiraghi agreed on outfits emphasizing geometry. The mother, who was a great friend of the late Karl Lagerfeld, was photographed in a Chanel tweed suit with checks mixing a rainbow of colors, all softened by flared cream pants. For her part, Raphaël and Balthazar's mother chose a black and white outfit with a "Scottish kilt" pattern, and a pair of Chanel glasses placed on top of her head as an accessory. If Alexandra de Hanovre opted for a more casual outfit composed of loose black pants, a basic immaculate t-shirt and a washed leather jacket, she especially shone in the arms of her partner Ben-Sylvester Strautmann.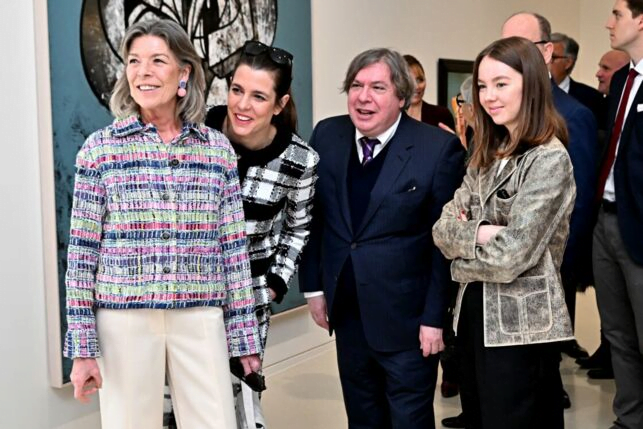 Caroline of Monaco, patron of arts and culture
This outing at the new National Museum of Monaco showed once again the involvement of Caroline of Monaco in the cultural influence of the Rock. Moreover, in 2017, France had elevated the princess to the rank of Commander of Arts and Letters for her action in favor of the subject in the Principality. "Generation after generation, the House of Grimaldi has cultivated this passion for the arts and this taste for the avant-garde. You have wonderfully taken over this legacy," the former Minister of Culture Fleur Pellerin told him at the time, as reported by our colleagues at Point de vue. And exclaimed: "But with what talent have you brought your stone to this heritage!"
Photo credits: Bruno Bebert / Bestimage