This Friday 14 April, King Charles III was at the Sandhurst Military Academy in Camberley. The 74 year old King was smiling as he made his long-awaited appearance at the Academy.
On Wednesday 12 April, Buckingham Palace announced – via a press release – that Prince Harry had accepted his father's invitation. After several months of suspense, the youngest son of King Charles III will be present at this historic event. A trip that the father of the family will make alone since his wife Meghan Markle will remain in the United States, surrounded by their two children.
This Friday 14 April, King Charles III thus made his first public appearance since this shock announcement. The 74-year-old sovereign was notably visiting the Royal Military Academy of Sandhurst (located in Camberley) to inspect the military parade and the new uniforms. On the spot, and as revealed by Hello Magazine, the father of Princes Harry and William was visibly in good spirits as he presented himself very smiling in front of the numerous soldiers. An unconcealed enthusiasm that did not escape the photographers present.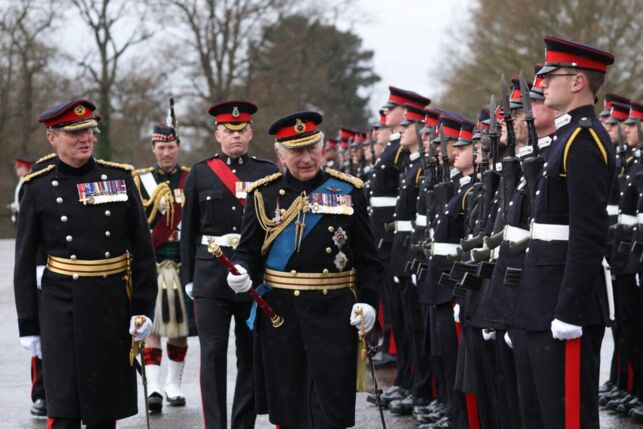 Charles III: saddened by the absence of his two grandchildren?
If Queen Camilla's husband is in a constant good mood as his coronation approaches, he was nevertheless slightly saddened by Prince Harry's announcement. Indeed, while he is delighted that his son – exiled in the United States – will be present at the ceremony, he was also a little disappointed not to be able to meet his two grandchildren, Prince Archie and Princess Lilibet.
A source close to the palace told The Sun on 12 April. "It's sad but the King understands the situation," the source said on condition of anonymity. When Charles III learned that Meghan and her grandchildren would not be taking part in the trip, he felt "a certain disappointment" at not seeing them again on the day, which is so important to him.
Photo credits: Agency / Bestimage