With just a few weeks to go before his coronation, Charles III was smiling on Friday 14 April as he visited the Royal Military Academy at Sandhurst. Having just received confirmation that his son, Prince Harry, will be present at his coronation, the King made a touching reference to his younger son in his speech.
Between Montecito and London, a white flag seems to have been planted. After months of uncertainty and negotiations, Prince Harry has accepted his father's invitation to attend his coronation on 6 May. Since then, a weight has obviously been lifted from the king's shoulders. On Friday 14 April, the 74-year-old monarch was all smiles at the 200th Sovereign Parade held at the Royal Military Academy Sandhurst.
Dressed in his best attire, Queen Camilla's husband gave a speech in which a mention to his two sons did not go unnoticed. "As the father of two former students of this academy who remember their graduation parades, I know they will be extremely proud to see you marching," Meghan Markle's father-in-law said, according to the Daily Mail. Charles III was clearly reminiscing about the times he went to admire his boys on the streets of Camberley.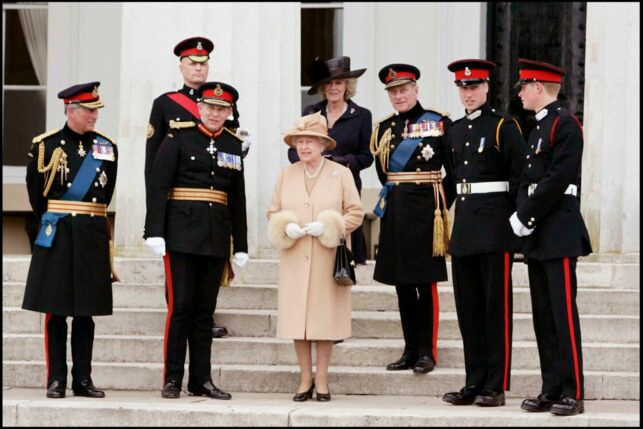 Prince Harry's attachment to his military career
It is well known that Prince Harry's military training and missions in Afghanistan played a crucial role in his reconstruction after the death of Lady Diana. On 20 April, the ITVX platform will release a new documentary series on the behind-the-scenes of the British monarchy, entitled The Real Crown: Inside the House of Windsor. In one of the five episodes, the series will look at how the decision was made to send Prince Harry to fight in Afghanistan in 2007, rather than his eldest son Prince William, The Express reported a few days ago.
General Sir Mike Jackson, former head of the British army, tells us that Elizabeth II wanted an heir to the crown to fight in the Middle East from the start of the conflict in 2001. However, it seemed too risky to send the future king of England, William, to the front. At a meeting, the contents of which are disclosed here by Sir Mike Jackson, the sovereign is said to have chosen to "sacrifice" her youngest son to preserve the future of the Crown.
Photo credits: Agency / Bestimage