On May 6, Meghan Markle will not attend the coronation of Charles III in Westminster Abbey. This absence has been widely commented on in the English press. Two years ago, in April 2021, the Duchess of Sussex did not attend the funeral of Prince Philip either. A decision that had "relieved" the Queen…
It's official, after weeks of procrastination, the Sussexes have finally made it known whether or not they will attend the coronation of Charles III on 6 May. While Prince Harry will attend his father's coronation, his wife Meghan Markle will remain in California with their children, Prince Archie and Princess Lilibet. A decision much commented on across the Channel. By choosing to stay in the United States, the Duchess of Sussex seems to be distancing herself even more from the Windsors. It therefore seems unlikely that Meghan Markle will attend other royal events in the future… Already, two years ago, her absence from Prince Philip's funeral in St George's Chapel at Windsor Castle was much commented upon.
Prince Harry came alone to the UK to pay tribute to his grandfather, who died at the age of 99. The Duke of Sussex walked behind the coffin alongside his father and brother William, with Queen Elizabeth II following in a car, deeply grieved by the loss of her husband. Already estranged from the Firm, the Duke of Sussex, who had slammed the door on the royal family in January 2020, had not been received warmly. On the images, the chilly atmosphere was already palpable. Thus, his wife Meghan Markle had already preferred to pass. This was obviously a relief for Elizabeth II. The Queen would have been "rather pleased that she did not attend Prince Philip's funeral with Prince Harry in 2021″, said royal expert Gyles Brandreth. The late monarch had probably preferred to avoid yet another clash between the Sussexes and the royal family on such a solemn day.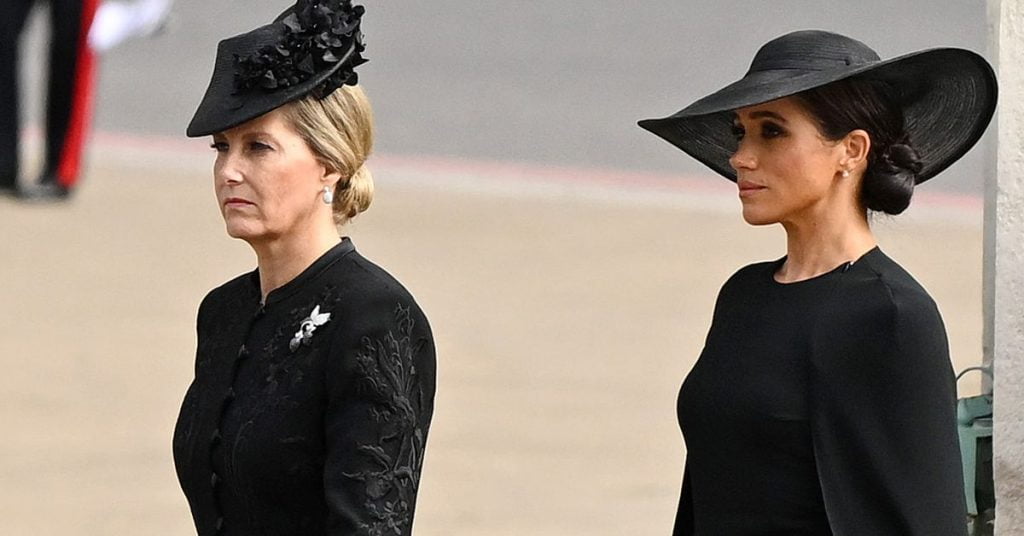 Charles III deprived of his grandchildren at his coronation
However, this was another missed opportunity for the Sovereign to see her great-grandchildren. During Elizabeth II's lifetime, Princess Lilibet only visited England once. Unlike her brother Archie, the girl was born in California and has hardly ever been near the Windsors. On 6 May, Charles III will not have the pleasure of meeting his two grandchildren, who are in exile in the United States. While the new monarch welcomed his son's decision to come to his coronation, he is undoubtedly pained and even annoyed by the situation. But like Elizabeth II, the monarch and the event organisers must no doubt be relieved not to have to deal with the entire Sussex family on English soil…
Phtos credis: Bestimage