Just two years ago, on 17 April 2021, the British royal family said farewell to Prince Philip. The husband of Elizabeth II, who died at the age of 99, had supported the Queen for almost 74 years. At the funeral of her great love, the Queen moved the whole world. Remember.
This is probably the image that most upset the British in 2021. As the world slowly freed itself from the restrictions of the Covid-19 pandemic, the death of Prince Philip at the age of 99 turned the British royal family upside down. His state funeral on 17 April 2021 brought together all his grandchildren, including Prince Harry, and left Queen Elizabeth II more alone than ever. Two years ago to the day, the sovereign, accustomed to colourful outfits and hats, donned the darkest of her suits to pay tribute to her husband in St George's Chapel at Windsor Castle.
And if there is one shot of the day that has left a lasting impression, it is the one of the monarch sitting alone in the church, staring blankly at the coffin of her beloved. With her face partly covered by a black mask, Elizabeth II tried to look dignified as she said goodbye to the great love of her life. A few months later, the Duke of Edinburgh and the Queen were to celebrate their 74th wedding anniversary.
Elizabeth II at Philip's funeral, "a heartbroken wife
Only 30 people attended Prince Philip's funeral. Because of the risk of transmission of Covid-19, a strict social distance had to be maintained inside the chapel. Only people from the same household were allowed to sit next to each other. Therefore, living with her husband between Balmoral and Windsor castles, the Queen had been isolated from the rest of the royal family.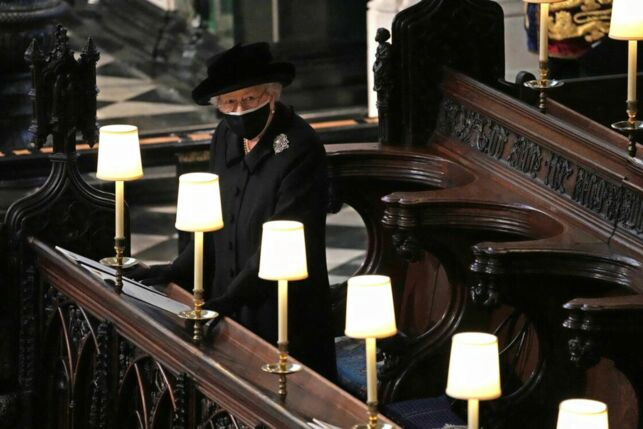 On social media, the heartbreaking image saddened many royal commentators and other admirers of the Crown. "Elizabeth, sitting alone, mourning the man she loves. Queen' though she may be, she was now no more and no less than a heartbroken wife," wrote one journalist, captioning a photo of the sovereign in mourning. At the end of the ceremony, Elizabeth II was the first to leave the chapel and was taken directly to Buckingham Palace. When she died on 8 September 2022, many sources close to the monarch said that since her husband's death, the Queen had not been the same and seemed to be waiting for her time.
Photo credits: AGENCY / BESTIMAGE