As usual, Mike Tindall showed his originality on his social networks. A naturalness that pleases his entourage as well as his fans.
Mike Tindall is getting ready to take on the green. On his Instagram account, which is followed by more than 585,000 followers, the husband of Zara Tindall – daughter of Princess Anne – has published a colourful photo. The appearance of his fuchsia pink shorts with an alien head print will not contradict this statement! Indeed, the former rugby player likes to play with codes and showed off his pride by posing balanced on a golf cart, looking towards the horizon, with a hand fanning his forehead to keep the sun out of his eyes: "When you check your diary and realise that there are only two weeks left until the ISPS Handa Mike Tindall Celebrity Golf Classic," he wrote in the description.
Currently in Japan, Mike Tindall is about to take part in a golf tournament that takes place every year. The aim? To raise money for various charities. For example, the competition raised £190,000 in 2021. This amount was then donated to the Matt Hampson Foundation – which supports people with disabilities that arise from sporting activities – and the Cure Parkinson's, which fights to advance research into Parkinson's disease. As the tournament's sponsor, along with his wife Zara Tindall and other well-known names such as former One Direction member Niall Horan and professional golfer Hannah Green, Mike Tindall is not shy about giving of himself with his trademark humour.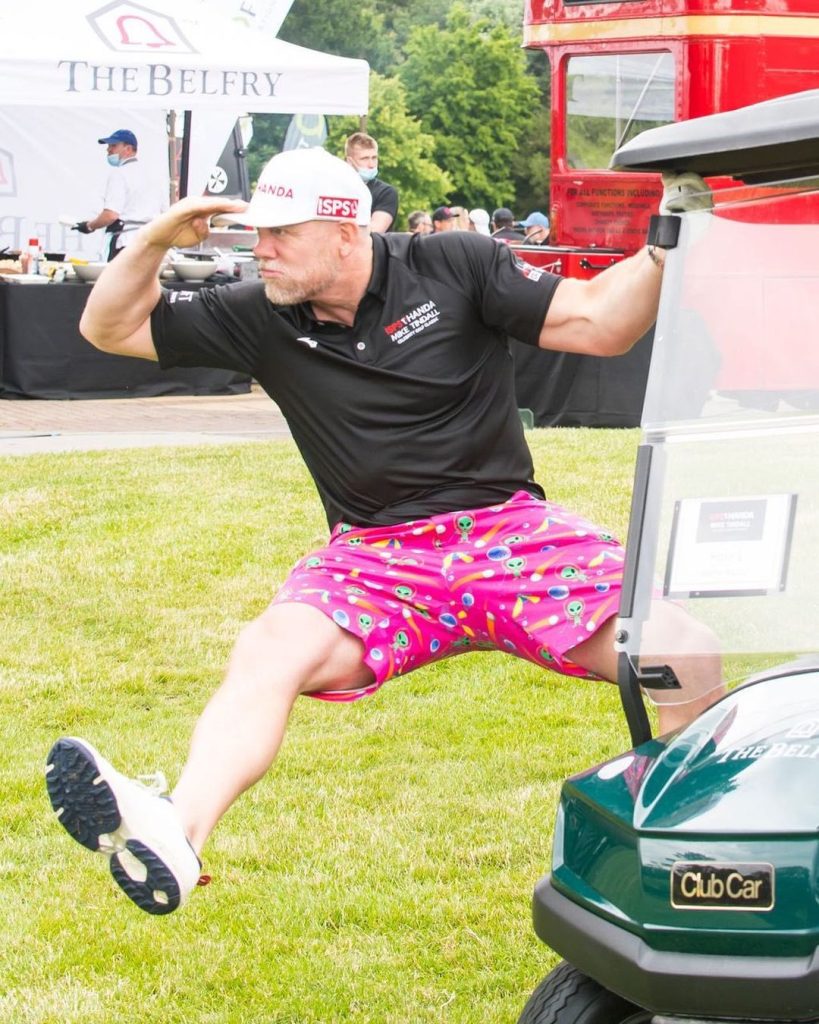 A regular in offbeat clichés
This is not the first time that the former reality show contestant has made trouble on social networks. Last January, while he was attending the Magic Millions horse race in Australia with his wife, they didn't hesitate to play the troublemaker. With a series of kisses, group photos, lifts, faces and costumes, the couple showed their carefree nature thousands of miles away from Britain. Every time, their personalities hit the spot! As Mike Tindall took to the stage to promote the golf competition on Friday, his subscribers expressed their enthusiasm and sympathy for him: "My god! This guy is fantastic," wrote one fan whose views were shared by another. "Love the shorts, very stylish," commented a second follower in reference to the eccentric clothing Mike Tindall is wearing in the photo.
Photo credits: AGENCY / BESTIMAGE