On Wednesday 17 May, Charles III received the new Scottish First Minister at Buckingham Palace. On this occasion, photos of the meeting between the two men were leaked to the British media. One detail of the setting caught the attention of the most observant, proving that the new monarch keeps his youngest son in his good graces.
Charles III's holiday is over. After taking a few days to rest following the coronation on 6 May, the monarch resumed his duties at Buckingham. With appearances in London's Covent Garden and at the Prince's Trust ceremony, Elizabeth II's son has had his hands full. Last week, Queen Camilla's husband also received the new Scottish First Minister, Humza Yousaf, successor to Nicola Sturgeon. Snapshots of their handshake were picked up by the media, immortalising the first contact between the King and the politician in office.
But it was a detail in the setting that caught everyone's attention. Behind Humza Yousaf, on a pedestal table, was a frame in which a photo of Charles III's two sons, Princes William and Harry, could be seen. A wink from the King that is very heartwarming, given the complicated relationship between the King and his youngest son. On 6 May, Archie and Lilibet's father travelled to London to attend the coronation of Charles III. Sitting in the third row in Westminster Abbey, Princess Diana's youngest son was surrounded by Jack Brooksbank, Princess Eugenie's husband, and Princess Alexandra. As soon as the ceremony was over, Prince Harry flew back to Montecito, California.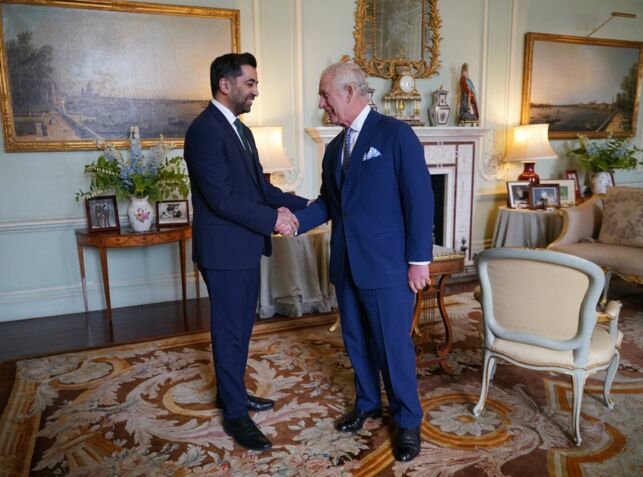 Mok Yui/PA Wire/ABACA
Charles III meets Humza Yousaf at Buckingham Palace, Wednesday 17 May.
Towards a ceasefire between Charles III and Prince Harry?
Since the events of "Megxit" in 2020, relations between Charles III and Prince Harry have only deteriorated. After the accusations of racism against the royal family, made on the Oprah Winfrey show by the young father of the family and his wife, other clashes have broken out following the publication of his memoirs and his Netflix series. Despite these attacks, the Duke of Sussex expressed his desire to reconnect with his father on American television. For his part, Charles III expressed only good feelings towards his son. His first speech as King, made in the wake of Elizabeth II's death last September, is a testament to this. "I send my love to Harry and Meghan as they continue to make history across the Atlantic," he said.
Photo credits: Melville Toby/PA Photos/ABACA